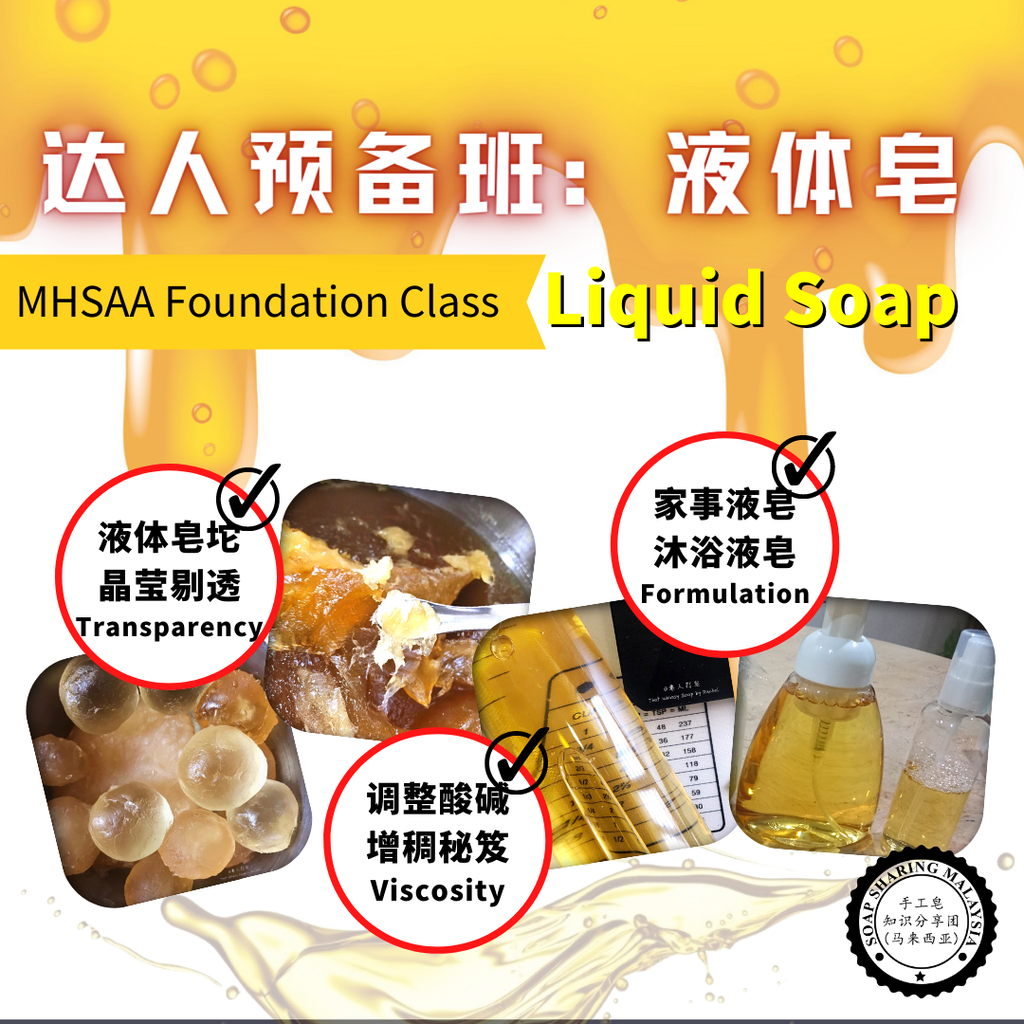 達人 Online 皂著你預備班 : 液體皂 MHSAA Foundation Class Liquid Soap
液體皂其實也是手工皂喔! 同樣需要經過油脂皂化過程完成肥皂使用
不同的是,液體皂顧名思義就是呈現液態狀,但與家用的沐浴乳也完全不一樣,手工的液體皂沒有合成化學添加物, 而且還可以千變萬化!
2日手工液體皂基礎入門班 • 2-days Liquid Soap Foundation class
授課達人老師 Instructor:
參加對象Target audience:
對液體手工皂有興者皆可參加。適合零基礎小白入門,或是自學後對液體手工皂的製作尚有很多疑問的同學。

在家即可輕輕鬆松Zoom上課。

可選擇平日班或週末班。其他詳情都在表格裡。 日期可以 PM 我們以便可以和老師們安排上課時間 (2 人開課 & 4 人滿一班)

此課程含材料包及基本打液體皂工具。而且預備班的同學後續報名 《達人online皂著你》 系列課的其他課程,都可以獲得非常誘人的discount哦!
跟著達人老師勇闖液體皂的世界, 解剖液體皂百變的奧秘

(中文班)
https://forms.gle/CbBs2PUZBvj2pGBw5

(英文班 English class)
https://forms.gle/7EFNEVWdPnhrbwVWA
Liquid soap/Castile soap is also part of handmade soap! It also needs to go through the oil saponification process to complete the soap making process prior to be used.
The difference is that liquid soap, as its name implies, is in liquid form, but it is completely different from commercial shower gels. Handmade liquid soaps have no synthetic chemical additives, and it is always being formulated differently for various usage!
You can conveniently attend our Zoom class at the comfort of your home.
Classes are available on weekdays or weekends. Date and further details can be found in the registration form attached.
Fees include material kit and basic soap making tools. Foundation students will get a very attractive discount when they wish to advance themselves in our Masterclass.
Follow our experienced instructors to walk-through the world of liquid soap and explore the mystery of the ever-changing liquid soap

(中文班)
https://forms.gle/CbBs2PUZBvj2pGBw5

(英文班 English class)
https://forms.gle/7EFNEVWdPnhrbwVWA
注意事項 Things to Know
本館所有產品乃手工製作,很多產品都沒有現貨,發貨時間為收到匯款後一個星期內製作。由於所有產品的器材需要經過紫外線消毒,製作過程稍微耗時,請耐心等候。
使用本館產品時如果出現發紅、腫脹或其它皮膚過敏情況,請立即停止使用產品,聯絡本館的工作人員並諮詢皮膚科醫生。避免在開放性傷口或發炎的皮膚上塗抹產品易致敏感處更加嚴重。開放性傷口需要特別的藥草膏或者修復油治療。避免陽光直射,並保存在嬰兒以及兒童接觸不到的地方。
All the products in our Store are handmade, and many products are not in stock and mostly based on Made-To-Order basis. The delivery lead time is within one week after receiving full payment. Since the containers & equipment for all products needs to be UV-sterilized and the production process is a little bit time-consuming, we would like to request for your patient.
If you experience redness, swelling, or other skin allergies when using our products, please stop using the product immediately, contact our staff, and consult a dermatologist. Avoid applying the product on open wounds or inflamed skin to make it more sensitive. Open wounds require special herbal creams or healing oils. Avoid direct sunlight and keep out of reach of babies and children.
Customer comments
| Author/Date | Rating | Comment |
| --- | --- | --- |
---