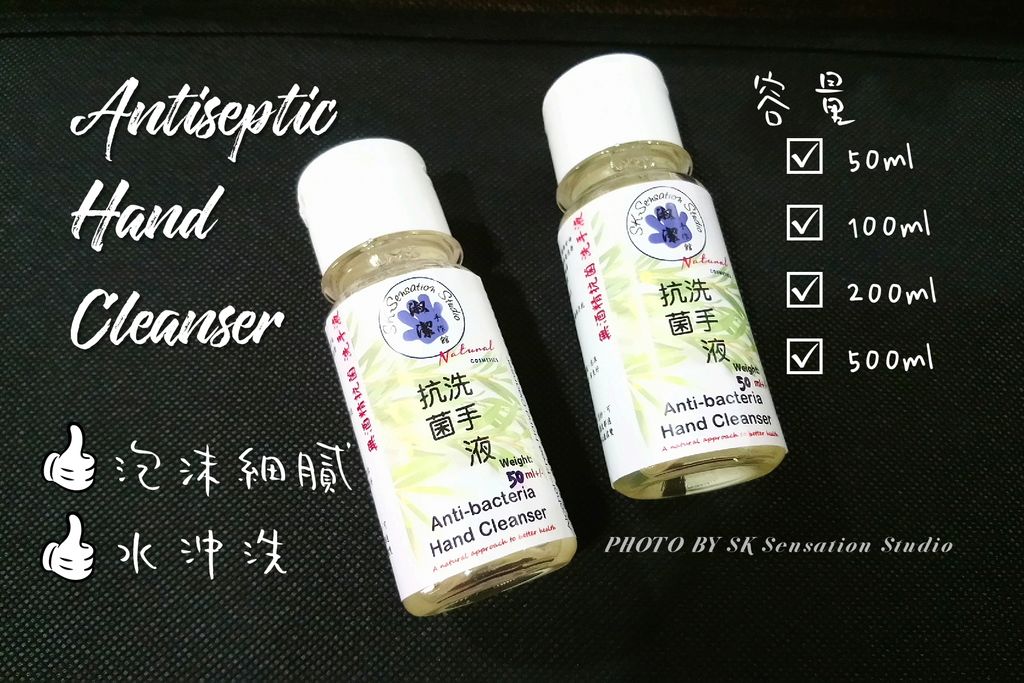 Anti-Bacteria Hand Cleanser 抗菌洗手液 (需水洗)
抗菌洗手液 (需水洗) -- 守護全家人的健康
在疫情結束之前,我們還是要好好保護自己,與病毒對抗,打好這場「防疫戰」。

手是人體接觸細菌最多的部位,因此洗手是遠離細菌、保持健康最簡便有效的措施之一。面對市場上千千萬萬的洗手液產品, 我們又該如何正確選擇和使用呢?本館推出兩種不同做法的洗手液供大家選購, 第一種就是簡易的做法, 只是利用不同的起泡劑以及添加純露, 甘油等製成; 另外一種就是手工液體皂的製作方式, 兩者都能達成洗潔作用。
抗菌洗手液,配方中除了表面活性劑之外,還添加了抗菌或抑菌成分,除了能夠去污清潔,還能達到殺滅細菌或抑制細菌滋生的效果。
Antibacterial Hand Cleanser (requires wash away with water) - protect the health of the whole family

During the epidemic of viruses, we need to protect ourselves, fighting with the virus, and fight the "epidemic war."

Our hand is most exposed to bacteria while we touch here and there, therefore we need to wash our hands frequently and this is most effective measures to stay away from bacteria and maintain good health. There are thousands of hand wash products in the market, how should we choose the right product and use them properly?
There are two different types of hand wash available for you to purchase from our store. The first type is simplify version, just using different foaming agents and adding pure hydrosol, glycerin, etc; the other type is our liquid soap, both method can achieve a cleaning effect.

In addition to any surfactants we use, antibacterial hand washer are also formulated with antibacterial or bacteriostatic ingredients such as Essential Oils. In addition to decontaminating and cleaning, it can also kill bacteria or inhibit the growth of bacteria.
注意事項 Things to Know
本館所有產品乃手工製作,很多產品都沒有現貨,發貨時間為收到匯款後一個星期內製作。由於所有產品的器材需要經過紫外線消毒,製作過程稍微耗時,請耐心等候。
使用本館產品時如果出現發紅、腫脹或其它皮膚過敏情況,請立即停止使用產品,聯絡本館的工作人員並諮詢皮膚科醫生。避免在開放性傷口或發炎的皮膚上塗抹產品易致敏感處更加嚴重。開放性傷口需要特別的藥草膏或者修復油治療。避免陽光直射,並保存在嬰兒以及兒童接觸不到的地方。
All the products in our Store are handmade, and many products are not in stock and mostly based on Made-To-Order basis. The delivery lead time is within one week after receiving full payment. Since the containers & equipment for all products needs to be UV-sterilized and the production process is a little bit time-consuming, we would like to request for your patient.
If you experience redness, swelling, or other skin allergies when using our products, please stop using the product immediately, contact our staff, and consult a dermatologist. Avoid applying the product on open wounds or inflamed skin to make it more sensitive. Open wounds require special herbal creams or healing oils. Avoid direct sunlight and keep out of reach of babies and children.
Customer comments
| Author/Date | Rating | Comment |
| --- | --- | --- |
---