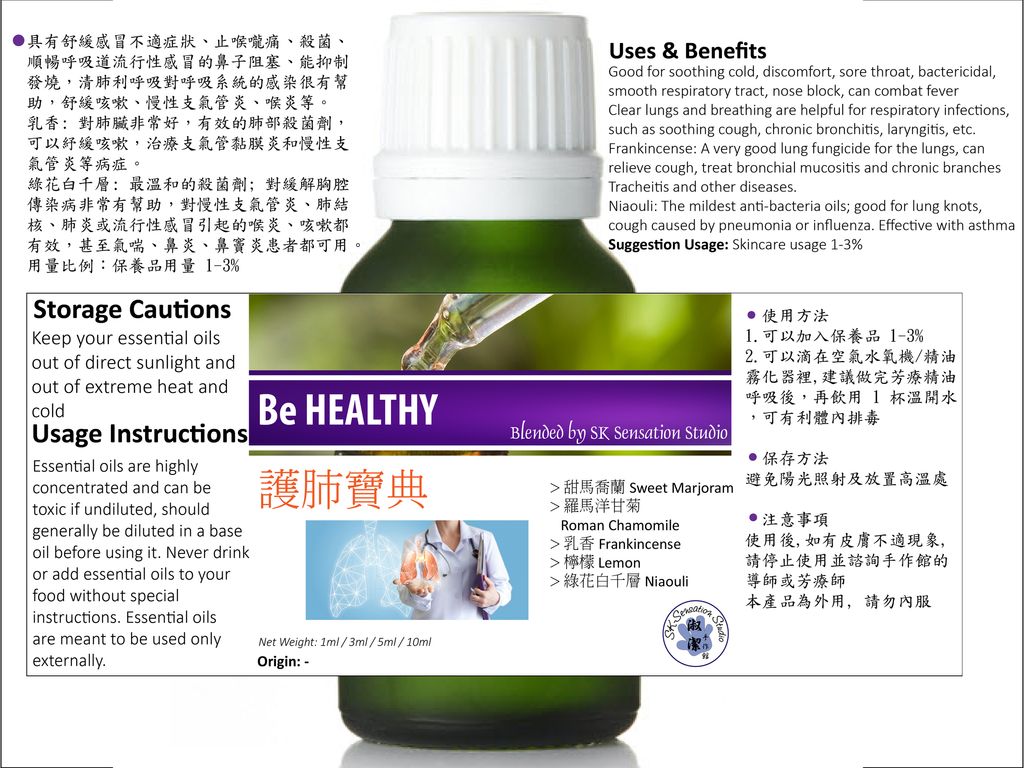 Be Healthy 護肺寶典
護肺寶典 Be HEALTHY


具有舒緩成冒不適症狀、止喉嚨痛、殺菌、順暢呼吸道流行性成冒的鼻子阻塞、能抑制發燒,清肺利呼吸對呼吸系統的成染很有幫助,舒緩咳嗽、慢性支氣管炎、喉炎等。
乳香:對肺臟非常好,有效的肺部殺菌劑, 可以抒緩咳嗽,治療支氣管黏膜炎和慢性支氣管炎等病症。
綠花白千層:最溫和的殺菌劑;對緩解胸腔 傳染病非常有幫助,對慢性支氣管炎、肺結核、肺炎或流行性成冒引起的喉炎、咳嗽都有效,甚至氣喘、鼻炎、鼻竇炎患者都可用。
購買須知
1. 1ml PURE 屬於未稀釋, 不可以直接用於塗抹皮膚上, 如果要用來沐浴, 請稀釋於基礎油或著牛奶/母乳於水中以避免損傷皮膚; 如果要加入 DIY 產品內, 使用量控制於 1-3% (如果產品裡沒有油脂只有水相, 請加入精油乳化劑)
2. 5% 復方調合油稀釋於 4ml 基礎油, 不可以直接用於塗抹皮膚上, 如果要用來沐浴, 請稀釋於基礎油或著牛奶/母乳於水中以避免損傷皮膚; 如果要加入 DIY 產品內, 使用量控制於 1-3%
3. 3% 復方調合油稀釋於 10ml 基礎油, 可以直接用於塗抹皮膚上, 也可以加入 DIY 產品內, 使用量控制於 1-3%
4. 3% 復方調合油稀釋於 30ml 基礎油, 可以直接用於塗抹皮膚上, 也可以加入 DIY 產品內, 使用量控制於 1-3%
保存方法: 避免陽光照射及放置高溫處
注意事項: 調和油 - 孕妇,婴幼儿,蚕豆症患者(G6PD),或其他的疾病患者(高/低血压,子宫肌瘤等),建议使用前,先和我们的合格芳療師溝通,確保安全使用。 使用後,如有皮膚不適現象,請停止使用。
Be HEALTHY
Good for soothing cold, discomfort, sore throat, bactericidal, smooth respiratory tract, nose block, can combat fever
Clear lungs and breathing are helpful for respiratory infections, such as soothing cough, chronic bronchitis, laryngitis, etc.
Frankincense: A very good lung fungicide for the lungs, can relieve cough, treat bronchial mucositis and chronic branches Tracheitis and other diseases.
Niaouli: The mildest anti-bacteria oils; good for lung knots, cough caused by pneumonia or influenza. Effective with asthma
Storage Cautions: Keep your essential oils out of direct sunlight and out of extreme heat and cold
Precautions: Avoid for Pregnant women, infants and young children, G6PD, or other disease patients (high / low) Blood pressure, uterine fibroids, etc.), recommended to consult with our qualified aromatherapist to ensure safety use. If you experience skin discomfort, please stop using it.
注意事項 Things to Know
本館所有產品乃手工製作,很多產品都沒有現貨,發貨時間為收到匯款後一個星期內製作。由於所有產品的器材需要經過紫外線消毒,製作過程稍微耗時,請耐心等候。
使用本館產品時如果出現發紅、腫脹或其它皮膚過敏情況,請立即停止使用產品,聯絡本館的工作人員並諮詢皮膚科醫生。避免在開放性傷口或發炎的皮膚上塗抹產品易致敏感處更加嚴重。開放性傷口需要特別的藥草膏或者修復油治療。避免陽光直射,並保存在嬰兒以及兒童接觸不到的地方。
All the products in our Store are handmade, and many products are not in stock and mostly based on Made-To-Order basis. The delivery lead time is within one week after receiving full payment. Since the containers & equipment for all products needs to be UV-sterilized and the production process is a little bit time-consuming, we would like to request for your patient.
If you experience redness, swelling, or other skin allergies when using our products, please stop using the product immediately, contact our staff, and consult a dermatologist. Avoid applying the product on open wounds or inflamed skin to make it more sensitive. Open wounds require special herbal creams or healing oils. Avoid direct sunlight and keep out of reach of babies and children.
Customer comments
| Author/Date | Rating | Comment |
| --- | --- | --- |
---