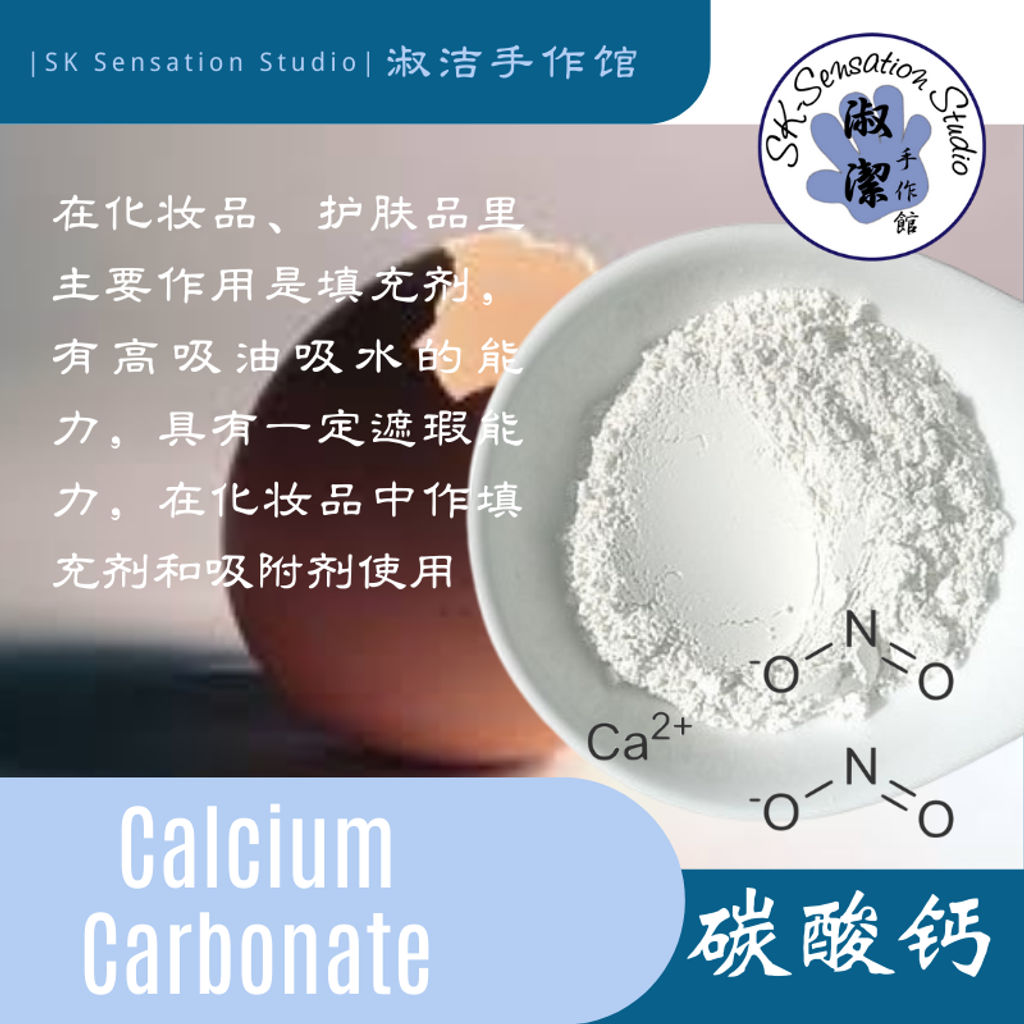 Calcium Carbonate 碳酸鈣
Calcium Carbonate 碳酸鈣
CaCO₃ 在化妝品、護膚品裡主要作用是填充劑,有高吸油吸水的能力,具有一定遮瑕能力,在化妝品中作填充劑和吸附劑使用。
納米級碳酸鈣可使製品細膩、光滑,提高了製品使用性能及產品檔次。

碳酸鈣在個人護理產品應用中表現出色,包括牙膏、面霜和乳液、化妝品和粉狀品。碳酸鈣是一種天然礦物,來源於最豐富的石帶中的高純度白色礦物。它是美容目的的理想選擇。碳酸鈣是一種天然存在的鈣: 蛋殼幾乎完全由碳酸鈣組成!

增強乳液(乳霜和乳液)的乳脂感。提高表面活性劑系統(洗髮水、沐浴露)中泡沫產生的數量和速度。廣泛用作緩沖劑和中和劑。在含有顏料的化妝品應用中用作遮光劑。

碳酸鈣的亮度和不透明度使其適用於白色和彩色化妝品。它們甚至可以被視為二氧化鈦的補充劑,並作為鈣的天然來源。建議使用碳酸鈣: 在牙膏中清潔;作為眼影、散粉和粉底中的遮光劑;以及作為口紅、粉底、眼影、粉餅和麵膜的填充劑。

建議用量:5–30%
酸鹼度:9, 微溶於水

碳酸鈣粉有分化妝品, 食品和製藥級, 大家可別買錯了!
Calcium Carbonate is excellent in personal care product applications including toothpastes, creams and lotions, cosmetics, and powders. Calcium Carbonate is a natural mineral sourced from high purity white minerals from the richest stone belts. It is ideal for cosmetic purposes. Calcium carbonate is a naturally occurring form of calcium—egg shells are made up almost entirely of calcium carbonate!

Enhances the creaminess of emulsions (creams and lotions). Enhances the amount and speed of foam generation in surfactant systems (shampoos, shower gels). Widely used as buffering and neutralizing agent. Useful as opacifying agent in cosmetic applications containing pigments.

The brightness and opacity of the calcium carbonates make them suitable for use in white and color cosmetics. They can even be considered as an extender of titanium dioxide and act as a natural source of calcium. The calcium carbonates are recommended: to cleanse in toothpaste; as opacifying agents in eyeshadow, face powder and foundation; and as fillers in lipstick, foundation, eyeshadow, face powder and facial masks.

Recommended usage: 5–30%
pH: 9, Slightly water soluble
注意事項 Things to Know
本館所有產品乃手工製作,很多產品都沒有現貨,發貨時間為收到匯款後一個星期內製作。由於所有產品的器材需要經過紫外線消毒,製作過程稍微耗時,請耐心等候。
使用本館產品時如果出現發紅、腫脹或其它皮膚過敏情況,請立即停止使用產品,聯絡本館的工作人員並諮詢皮膚科醫生。避免在開放性傷口或發炎的皮膚上塗抹產品易致敏感處更加嚴重。開放性傷口需要特別的藥草膏或者修復油治療。避免陽光直射,並保存在嬰兒以及兒童接觸不到的地方。
All the products in our Store are handmade, and many products are not in stock and mostly based on Made-To-Order basis. The delivery lead time is within one week after receiving full payment. Since the containers & equipment for all products needs to be UV-sterilized and the production process is a little bit time-consuming, we would like to request for your patient.
If you experience redness, swelling, or other skin allergies when using our products, please stop using the product immediately, contact our staff, and consult a dermatologist. Avoid applying the product on open wounds or inflamed skin to make it more sensitive. Open wounds require special herbal creams or healing oils. Avoid direct sunlight and keep out of reach of babies and children.
Customer comments
| Author/Date | Rating | Comment |
| --- | --- | --- |
---