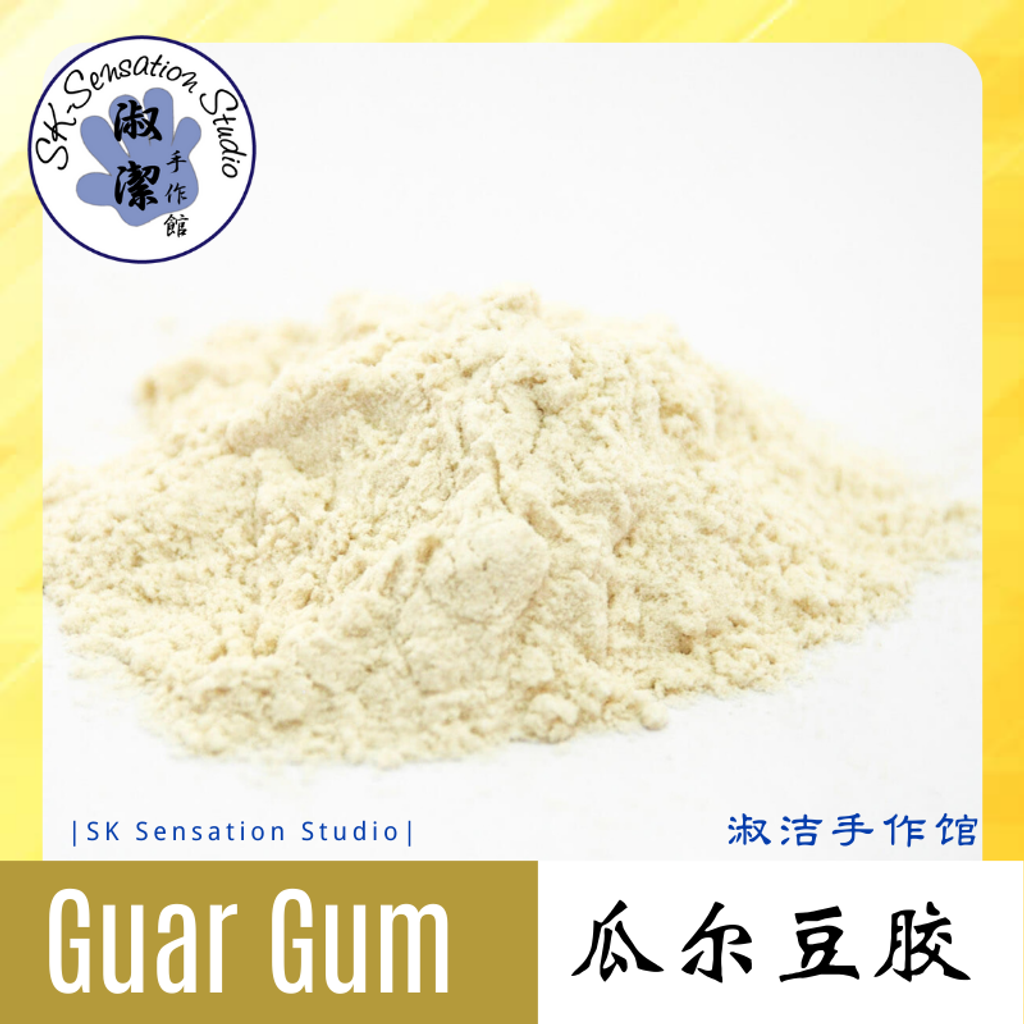 Guar Gum 瓜爾膠
Guar Gum 瓜爾膠/瓜爾豆膠
瓜爾膠,是一種由瓜爾豆製成的物質,具有增稠和穩定的特性,可用於各種行業,傳統的食品行業,以及越來越多的水力壓裂行業。瓜爾豆種子脫皮、碾磨、篩選,得到瓜爾膠。它通常以自由流動的米白色粉末的形式生產。它被歸類為半乳甘露聚糖。
瓜爾膠是一種增稠劑,爲大分子天然親水膠體,主要由半乳糖和甘露糖聚合爲食品而成,屬於天然半乳甘露聚糖,品質改良劑之一,是一種天然的增稠劑。外觀是從白色到微黄色的自由流動粉末,能溶於冷水或熱水,遇水後及形成膠狀物質,達到迅速增稠的功效。 

瓜爾膠是天以天然瓜爾豆膠粉為原料經化合反應而成的水溶性高分子聚合物。它可以降低表面活性劑對頭髮和皮膚的刺激性,改善頭發的柔順性及光亮度,具有優異的抗靜電性和增稠性。適用於洗髮水、沐浴露、護髮素的製作。
適合製作:清潔類保養品、精華液、面膜、乳液、乳霜、頭髮護理品。
基本用法:製作時,可先與甘油溶好後再添加,會分散得比均勻。溶水性比較慢,所以需要耐心攪拌。陽離子瓜爾膠的PH值偏鹼性,可以加入適量檸檬酸作調節,但就不能直接用在皮膚和頭髮上。有輕微的特徵性氣味,基本上不影響成品。
建議使用量:0.2-0.5%
Guar Gum is obtained by grinding the seed tissue of the Guar plant's beans, which are also called Cluster Beans and Siam Beans. The resultant natural gum is a polysaccharide that is commonly added to cosmetic formulations to emulsify and stabilize them, to act as a suspending agent, and to enhance the thickness of their consistencies, which also helps adjust their textures.
To add Guar Gum to cosmetics formulations, it must first be hydrated with water of any temperature (cool, room temperature, warm, hot). Begin by churning water with a high-shear mixer and pouring the gum in slowly until it is fully incorporated into the vortex. After it is fully hydrated and viscous, it can then be added to the recipe in its water phase. Alternatively, it may be added to the recipe after all the phases have been combined. The final product should ideally have a pH level between 5.0 and 9.0.
Guar Gum uses in:
Creams, Lotions
Shampoos, Conditioners
Lipsticks, Deodorants
Face Masks, Shaving Products
Ointments
Functions as:
Emulsifier
Stabilizer
Thickener
Moisturizer
Softener
Conditioner
Whitening agent
Recommended maximum dosage is 0.2% - 0.5%
注意事項 Things to Know
本館所有產品乃手工製作,很多產品都沒有現貨,發貨時間為收到匯款後一個星期內製作。由於所有產品的器材需要經過紫外線消毒,製作過程稍微耗時,請耐心等候。
使用本館產品時如果出現發紅、腫脹或其它皮膚過敏情況,請立即停止使用產品,聯絡本館的工作人員並諮詢皮膚科醫生。避免在開放性傷口或發炎的皮膚上塗抹產品易致敏感處更加嚴重。開放性傷口需要特別的藥草膏或者修復油治療。避免陽光直射,並保存在嬰兒以及兒童接觸不到的地方。
All the products in our Store are handmade, and many products are not in stock and mostly based on Made-To-Order basis. The delivery lead time is within one week after receiving full payment. Since the containers & equipment for all products needs to be UV-sterilized and the production process is a little bit time-consuming, we would like to request for your patient.
If you experience redness, swelling, or other skin allergies when using our products, please stop using the product immediately, contact our staff, and consult a dermatologist. Avoid applying the product on open wounds or inflamed skin to make it more sensitive. Open wounds require special herbal creams or healing oils. Avoid direct sunlight and keep out of reach of babies and children.
Customer comments
| Author/Date | Rating | Comment |
| --- | --- | --- |
---