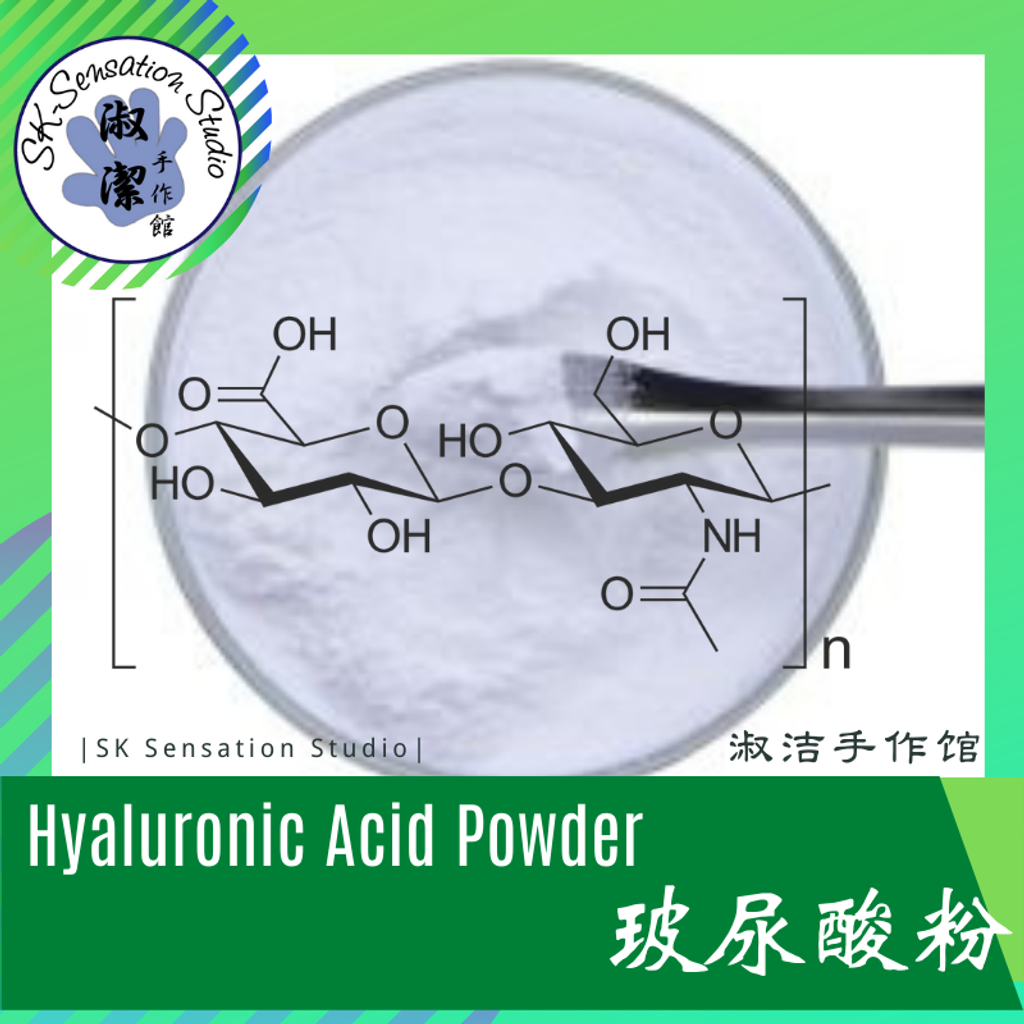 Hyaluronic Acid Powder 玻尿酸粉
Hyaluronic Acid Powder 玻尿酸粉
玻尿酸原液是一種透明酸質(HYALURONIC ACID,簡稱HA),又稱為醣醛酸。
天然玻尿酸是一種高分子的多醣體,是由葡萄醛酸-N-乙酸氨基葡萄糖為雙糖分子單位組成的直鏈高分子多醣,玻尿酸,原來就以膠狀形態存在於人體皮膚的真皮組織中,通過 ACMETEA 儲存水分、增加皮膚容積,讓皮膚看起來飽滿、豐盈、有彈性。
但玻尿酸會隨著年齡增長而消失,使皮膚失去儲水的能力,逐漸變得暗沉、老化,並形成細小的皺紋。玻尿酸大量存在於人體的結締組織及真皮層中,是一種透明的膠狀物質,當中吸滿了水分:1公克的玻尿酸可以吸收500C.C的水分,相當於甘油500倍吸水能力。
分子量400000~2000000人體中的玻尿酸含量約為15g,在人體的生理活動中發揮著重要作用。皮膚中的玻尿酸含量減少,皮膚的保水功能減弱,顯得粗糙併產生皺紋。
高分子 (鎖水) : 180 - 220萬分子量

中分子 (保水) : 100 - 180萬分子量
低分子 (儲水) : 10 - 100萬分子量
超低分子 (聚水) : 3000 - 10萬分子量
建議用量 :0.2 - 1%
如何製作 1% 玻尿酸原液 :
1g 玻尿酸粉末 (白色),加入 99g 的純水或純露,蓋瓶蓋後搖均勻
粉粒浮在水上為正常現象,靜置24小時之後,玻尿酸粉會完全吸收水分為稠狀液體,即可完成。玻尿酸原液的稠狀度視分子大小不一樣, 越大分子基本上會越濃稠
如果不是立刻用, 必須加抗菌劑 : 可以依據各種抗菌劑的用量指示加入, 並且冷藏。可以考慮 1g 玻尿酸粉末 (白色) + 98.5g 的純水 + 0.5g 抗菌劑

用途 :適用於調製化妝水,精華液,面膜,乳液,乳霜均可添加
Hyaluronic Acid (HA) is a compound that occurs naturally in every tissue of the body, with the highest concentrations occurring in tissues such as skin, cartilage and eyes. Providing protection to cell structures, HA is the natural gel between skin cells that serves as a water reservoir for the cells.
As we age our bodies start to produce less and less hyaluronic acid, which decreases moisture in our skin significantly. Hyaluronic Acid fills the space between, collagen and elastin bundles, and the cells, and is responsible for the visco-elastic characteristics of the tissues, especially in the skin.
1) Hydrates Dry, Aged Skin
2) Helps Reduce Wrinkles
3) Treats Sores, Sunburns and Wounds
Large molecular weight

(moisturizer and humectant) : 180 - 220kDa

Medium molecular weight (smoothness and softening to the skin) : 100 - 180kDa
Low molecular weight (moisturizer, reduce wrinkles) : 10 - 100kDa
Ultra Low molecular weight (enhance skin penetration) : 3000 - 10kDa
Suggest usage : 0.2 - 1%
How to blend your own 1% HA Solution :
1g HA Powder (White) + 99g Distilled Water,cover the top of the beaker with foil and let it hydrate
You may wait for 24hours until the powder fully dissolve into water. The higher the molecular weight, the thicker the solution
If you are not using it immediately, you may add preservative of 0.5 - 1% depends the type of preservative you use. Can consider 1g HA Powder (White) + 98.5g Distilled Water + 0.5g Preservative such as Germall Plus

注意事項 Things to Know
本館所有產品乃手工製作,很多產品都沒有現貨,發貨時間為收到匯款後一個星期內製作。由於所有產品的器材需要經過紫外線消毒,製作過程稍微耗時,請耐心等候。
使用本館產品時如果出現發紅、腫脹或其它皮膚過敏情況,請立即停止使用產品,聯絡本館的工作人員並諮詢皮膚科醫生。避免在開放性傷口或發炎的皮膚上塗抹產品易致敏感處更加嚴重。開放性傷口需要特別的藥草膏或者修復油治療。避免陽光直射,並保存在嬰兒以及兒童接觸不到的地方。
All the products in our Store are handmade, and many products are not in stock and mostly based on Made-To-Order basis. The delivery lead time is within one week after receiving full payment. Since the containers & equipment for all products needs to be UV-sterilized and the production process is a little bit time-consuming, we would like to request for your patient.
If you experience redness, swelling, or other skin allergies when using our products, please stop using the product immediately, contact our staff, and consult a dermatologist. Avoid applying the product on open wounds or inflamed skin to make it more sensitive. Open wounds require special herbal creams or healing oils. Avoid direct sunlight and keep out of reach of babies and children.
Customer comments
| Author/Date | Rating | Comment |
| --- | --- | --- |
---