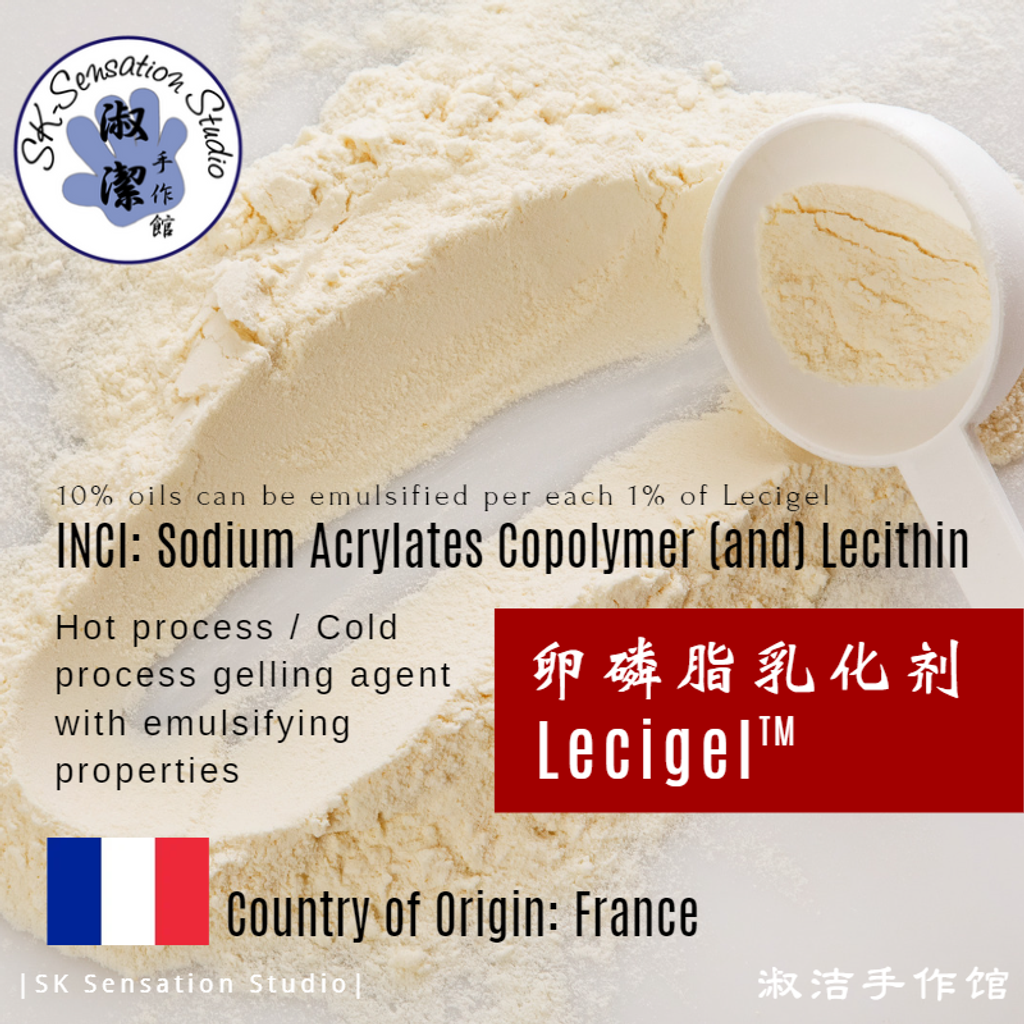 Lecigel (TM) 卵磷脂乳化劑
Lecigel | Sodium acrylates copolymer (and) Lecithin 卵磷脂乳化劑
卵磷脂乳化蠟為粗粉末狀態,米黃色, 從天然有機認証大豆中提取。卵磷脂中的極性脂質,是人體細胞膜的必需成分。它溫和不刺激,親膚性佳,質感絲滑細膩。能賦予配方磷脂質觸感,清涼,柔軟而不黏膩。
用法和簡易乳化劑很相似,是 O/W 自乳化型乳化劑 (self emulsifying),可作為乳化體系穩定劑和黏度調整劑。

適合製作:乳霜、乳液、面膜
建議添加比例 : 1%-4% (每 1% 的乳化蠟可以乳化大約 10% 的油) 最高油量不超過 20%,超過 20% 容易油水分離。
可以加熱製作也可以常溫冷作,建議溫度不要高過 70度以上,容易破壞其乳化結構,也容易油水分離。
PH 值: 4 ~ 10 具有寬廣的 PH 耐受範圍 (耐酒精, 耐酸鹼)

產地 : 法國
LECIGEL™ is a ( O/W | O/G | Si/W ) gelling agent with emulsifying properties. It comes in the form of a beige powder and allows the increase in the viscosity and the stability of formulas.
The polar lipid in lecithin is an essential component of human cell membranes. It is mild and non-irritating, has good skin-friendly properties, and has a silky and delicate texture. It can give the formula phospholipids a touch, cool, soft and non-greasy skin feel.
Suitable for both cold and hot processes, it also helps to adjust the viscosity at the end of the formulation process. Easy-to-use, it is compatible with most emulsifiers and is perfectly adapted to high level of ethanol, over a wide range of pH ( 4 - 10 ) and is compatible with electrolytes.
Can use for both cold process and hot process, usage 1-4%
Lecigel can emulsify up to 20% oil phase, 10% oils can be emulsified per each 1% of Lecigel (do not use more than 20% oil phase as it will split easily.
Product of origin : France
注意事項 Things to Know
本館所有產品乃手工製作,很多產品都沒有現貨,發貨時間為收到匯款後一個星期內製作。由於所有產品的器材需要經過紫外線消毒,製作過程稍微耗時,請耐心等候。
使用本館產品時如果出現發紅、腫脹或其它皮膚過敏情況,請立即停止使用產品,聯絡本館的工作人員並諮詢皮膚科醫生。避免在開放性傷口或發炎的皮膚上塗抹產品易致敏感處更加嚴重。開放性傷口需要特別的藥草膏或者修復油治療。避免陽光直射,並保存在嬰兒以及兒童接觸不到的地方。
All the products in our Store are handmade, and many products are not in stock and mostly based on Made-To-Order basis. The delivery lead time is within one week after receiving full payment. Since the containers & equipment for all products needs to be UV-sterilized and the production process is a little bit time-consuming, we would like to request for your patient.
If you experience redness, swelling, or other skin allergies when using our products, please stop using the product immediately, contact our staff, and consult a dermatologist. Avoid applying the product on open wounds or inflamed skin to make it more sensitive. Open wounds require special herbal creams or healing oils. Avoid direct sunlight and keep out of reach of babies and children.
Customer comments
| Author/Date | Rating | Comment |
| --- | --- | --- |
---