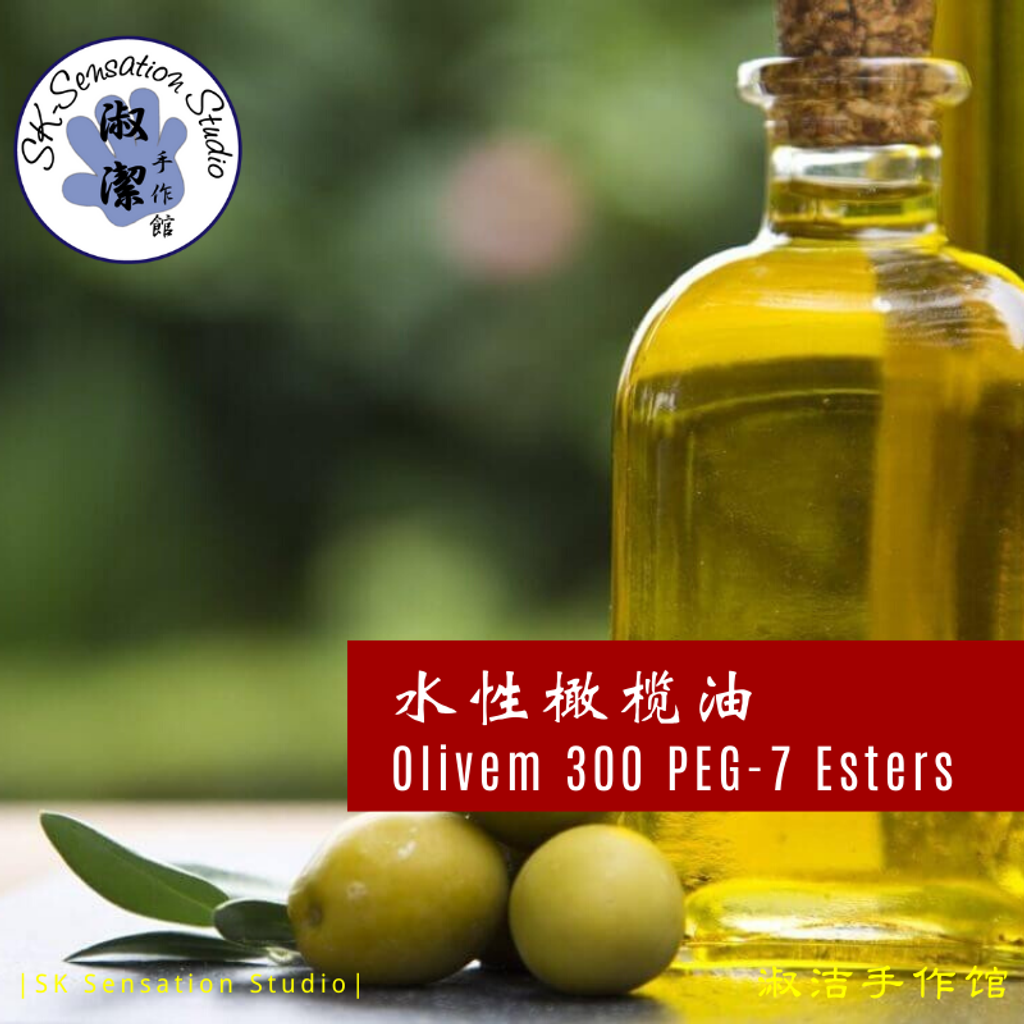 Olive Oil PEG-7 Esters(Olivem 300) 水性橄欖油
Olive Oil PEG-7 Esters(Olivem 300) 水性橄欖油
PEG-7 橄榄油酸酯是一种由100%天然来源,源自於橄欖油的水溶性功能油脂,HLB值11-12;具有助乳化、辅助增溶和保湿滋润的作用,基与环氧乙烷反应制得的水溶性油脂, 可做为油脂溶于透明产品中。

可應用於水性洗護産品,可减少起泡劑引起的皮膚刺激及緊綳感,不降泡沫及稠度,提供優異的富脂效果,及良好的保濕性;在O/W體系中亦爲良好之助乳化劑。Olivem 300是基於橄欖油的水溶性功能性脂質。 它對製劑提供柔軟性和溫和性,並且由於其對人皮膚的天然親和力,有助於保護皮膚免受其它表面活性劑引起的脫脂和刺激。

產地 : 義大利
建議添加量 :1-20%
外觀 :淺黃透明油狀液
適合製作:水性保養品、化妝水、水劑噴霧、精華液、清潔類保養品。
清潔用品:
0.5-2% 可作為賦脂劑
2-5% 增加其滋潤度
1-10% 可作為香精助溶劑
20% 洗卸用品
保養品:
2-5% 增加保養品的滋潤度
0.5-1% 可加在透明膠體裡增加其保濕度
手工皂和皂基:
1-2% 保護肌膚脂質、降低肥皂吸水性並減少出水
Olivem 300 is a non ionic surface active ingredient derived from olive oil with emollient, solubilizing and co-emulsifying properties. It is specially designed to be used in shampoos, toiletries and creams.
Olivem 300 is a water-soluble functional lipid with sebum recovering activities. It provides emollient and mildness to formulations, and, given its natural affinity for human skin, helps protect the skin from dilapidation and irritation which may be caused by other surfactants. It serves as a solubilizing aid for essential oils and perfumes. It can also be used as a co-emulsifier for o/w systems. At 20°C, it is a slightly yellow liquid. Biodegradable by more than 90%
Country of Origin : Italy'
Recommended usage: 1- 20%
Suitable for: water-based skin care products, lotions, mist/sprays, serums, cleansing products.
Applications : Shampoos and body cleansers, Bath oils (provides rinsability), Foam baths.
Recommended use levels for Olivem® 300 are as follows:
0.5 – 2% in toiletries as a refatting agent
2 – 5% as a moisturizer
1 – 10% as a fragrance solubilizer
20% in cleansing product
2 – 5% in skin care as an emollient
3 – 5% in color cosmetics as a nourishing and adhesive aid
0.5 – 1% in transparent gels as a hydrating agent.
1 – 2% in bar soaps to protect the hydro lipid barrier and decrease water absorption
Shelf life: 36 months.
注意事項 Things to Know
本館所有產品乃手工製作,很多產品都沒有現貨,發貨時間為收到匯款後一個星期內製作。由於所有產品的器材需要經過紫外線消毒,製作過程稍微耗時,請耐心等候。
使用本館產品時如果出現發紅、腫脹或其它皮膚過敏情況,請立即停止使用產品,聯絡本館的工作人員並諮詢皮膚科醫生。避免在開放性傷口或發炎的皮膚上塗抹產品易致敏感處更加嚴重。開放性傷口需要特別的藥草膏或者修復油治療。避免陽光直射,並保存在嬰兒以及兒童接觸不到的地方。
All the products in our Store are handmade, and many products are not in stock and mostly based on Made-To-Order basis. The delivery lead time is within one week after receiving full payment. Since the containers & equipment for all products needs to be UV-sterilized and the production process is a little bit time-consuming, we would like to request for your patient.
If you experience redness, swelling, or other skin allergies when using our products, please stop using the product immediately, contact our staff, and consult a dermatologist. Avoid applying the product on open wounds or inflamed skin to make it more sensitive. Open wounds require special herbal creams or healing oils. Avoid direct sunlight and keep out of reach of babies and children.
Customer comments
| Author/Date | Rating | Comment |
| --- | --- | --- |
---