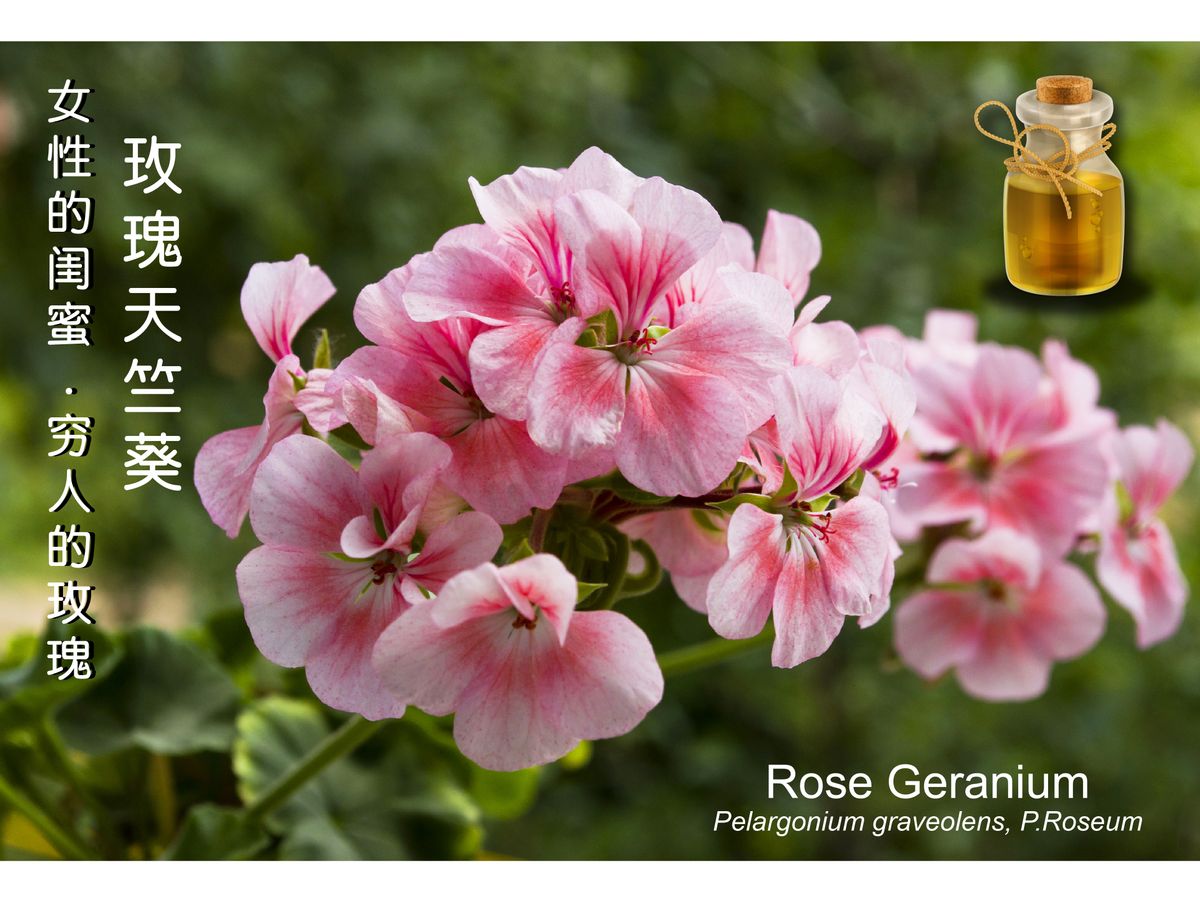 女性的闺蜜 – 窮人的玫瑰 – 玫瑰天竺葵 (Rose Geranium) , 中調
學名 : Pelargonium graveolens, P.Roseum
科屬 : 彪牛兒科 Geraniaceae 天竺葵屬
單帖醇 (Alcohols) 55% 酯類(Ester) 25%
一談到美容精油,天竺葵精油必定是位磅首,亦是「女人精油」的中流抵柱。相對於玫瑰,天竺葵收割比較多也比較容易,所以價格亦相對便宜,氣味和功效卻又與玫瑰相近, 故長久以來都成為玫瑰的取代品。
天竺葵約60公分,花為粉紅色,葉狀前端呈尖形並帶鋸齒,精油由蒸餾花葉而來,味道略似玫瑰,因此常被稱為 "窮人的玫瑰" 。其功效由平衡荷爾蒙、更年期、減肥、經痛到護膚、也可以排水腫;平衡皮脂腺的分泌、收斂毛孔、治暗瘡兼且收緊面部皮膚減少皺紋等。
今天, 我們談談這支油的護膚功效 - 天竺葵的主要功能在於調膚,天竺葵提取液中的有效成分與天然有機脂具有很強的親和性。天竺葵幾乎適合各種皮膚狀況,因為它能平衡皮脂分泌而使皮膚飽滿。可能對濕疹、灼傷、帶狀皰疹、皰疹、癬及凍瘡有益。天竺葵也可以收縮毛孔,促進血液循環, 使人容光煥發。
天竺葵精油也是荷爾蒙的平衡的好用精油,例如它對於女性更年期、女性經期疼痛的護理就有很不錯的效果,建議遭更年期、生理期困擾之苦的女性,都可將天竺葵精油應用在身體按摩上。天竺葵精油的平衡效果也能發揮在皮膚上,能幫助肌膚油水平衡。它能讓過油的肌膚抑止油脂分泌,也能讓過乾的肌膚能增加油脂分泌,強化保濕,因此我特別推荐皮膚屬外油內乾或敏感肌的人,多使用天竺葵精油調理。
本館館主喜歡用玫瑰天竺葵加入一系列的保養品中, 以達到護膚的最佳效果。一瓶乳液, 一支護唇膏 / 口紅, 一盒腮紅甚至眼影, 館主都是利用此推薦油加入, 在完全護膚之餘, 也提高抗氧化的作用。
When it comes to beauty essential oils, geranium essential oils must be emphasized, and it is also a "woman's essential oil." Compared with roses, geraniums are more likely to be harvested, so they are relatively cheap and their odor and efficacy are similar to roses, and can be considered as a substitution for roses.
The geranium is about 60 cm long. The flower is pink and the tip of the leaf is pointed and serrated. The essential oil is derived from the distillate leaves. It tastes like a rose, so it is often called the "Roses for Poor People".
Geranium has anti-inflammatory, anti-fungal and antioxidant properties making it great for skin and hair care. It is used for balancing hormones, menopause, losing weight, menstrual pain & skin care, and it can also be used as treating acne and tightening facial skin to reduce wrinkles.
Today, we talk about the skin care from the used of this oil - the main function of geranium is skin rejuvenate, and the active ingredient in geranium extract has a strong affinity with natural organic lipids. Geranium is suitable for almost all skin types because it balances sebum secretion and makes the skin plump. It may be beneficial for eczema, burns, herpes zoster, herpes, warts, and frostbite. Geranium can also reduce pores; promote blood circulation, and refreshment.
Geranium essential oil is also a well-balanced essential oil for hormones. For example, it has a very good effect on women's menopause and women's menstrual pain. It is recommended that women suffering from menopause and menstrual period can apply geranium oil to body massage. The balance of geranium essential oils can also be exerted on the skin to help balance the skin's oil and water. It can make oily skin inhibit the secretion of oil, but also can make over-dry skin can increase oil secretion, strengthen the moisturizing.
We like to use rose geranium into skin care products to achieve the best results in skin care protection. A bottle of lotion, a lip balm/lipstick, a box of blusher and even an eye shadow, we use this recommended oil to as addition to complete the skin care, it also enhances the antioxidant effect.